How to Make Your Home Safe for Aging Parents
There comes a time in every person's life when they become aware that the tables have turned. What do we mean by that? For as long as you can remember, you've always been someone's kid, and your parent were, well, your parents. Needless to say, they've always been the more responsible, grown-up, and serious part of your family's nucleus. As years go by, your parents gradually begin passing that role to none other than you! In other words: at some point, they'll require you to become the parent and provide them with the attention you've been given while you were a little kid. One of your new responsibilities concerns your aging parents' safety inside their homes. In the article you'll find below, we'll show you ways you can make your home safe for aging parents. Stick around!

The list of risks
First things first, we'll show you all the safety risks your parents might encounter at home. Here's what to pay attention to:
stairs w/o handrails
slippery floor surfaces (stone or ceramic tile)
rooms that have poor lighting
(small) rugs without any underpanning
spaces/rooms cluttered with furniture
bathrooms without handrails or grab bars
high kitchen shelving
decks or patios that have broken planks or stones
You'll need to make sure none of these present a risk by fixing the issues immediately. Don't worry; we'll show you what's there to be done.


Remove clutter
For all we know, your parents' home might resemble an overcrowded antique shop. If there's not much space for people to move - there's a lot more chance something might go awry. Of course, this shouldn't mean you throw away (there are far better options than that) or sell some of the furniture pieces your parents have bonded with over the years. Still, not all of them have sentimental value. Talk to your parents about what goes & what stays and make a rational decision to suit both sides. Once you figure that out, you might want to think about renting a storage unit for all the "unwanted" furniture. Needless to mention, the advantages are many. Among other reasons, your stuff will be safe & secure, and there'll be no need to throw anything away before giving the decision a second thought.
Take care of the lighting
Most senior-related home accidents happen because of poor lighting issues. Here's a list of things you can do to ensure your parents' place is free of bad lighting:
Remove burnt-out light bulbs. Replace with those that have the highest recommended voltage.
Make sure there are lamps on your parents' bedside tables.
Provide adequate lighting wherever there are steps or stairs.
Think about adding motion sensor lights outdoors.
Lighted doorbells are never a bad idea.
Add lights under the kitchen cabinets (to illuminate the counters).
Obtain LED lights or stick-on tap lights.
All in all: make sure each section of the home receives good lighting. Otherwise, the risk of your parents tripping over or falling, unfortunately, becomes more present.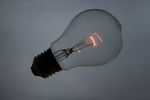 Replace the flooring
If there's risky flooring (hard-pile carpet, for instance) installed in your parents' house, replace it with the safer option. You'll want a laminated low-pile carpet to ensure the safety of your loved ones and avoid fall-related accidents and injuries. Always go for non-slip flooring wherever you have the luxury to do it. Alternatively, apply a non-stick coating to the existing flooring in your home. After all, that's the very least you can do for your aging parents' well-being.

What about rugs?
Of course, many people like rugs because of their undeniable visual appeal. Still, they can present more than an issue inside your parents' home. Also, they're a pretty known tripping hazard for folks who use walkers. At least that's what the folks at State to State Move tell us. They've got some good experience in moving seniors, so we're trusting them on that one. Anyway, here are your rug-related options:
Do away with rugs (the safest option).
Tape the rugs to the flooring.
Secure your rugs using non-slip pads.
We'd recommend you go with the first one. Still, if that's not possible (because of this or that reason), the other two will come in handy.

Install grab bars/handrails
This one goes without saying. It's probably the most obvious of these tips. Anyway, adding grab bars to your parents' home will make a remarkable difference in improving your home safety. It will help keep your loved ones stable (and on their feet) and secure while moving around the place. They can be installed just about anywhere inside the home. We're talking staircases, bedrooms, hallways, and most importantly, bathrooms. The bathroom is very likely the most dangerous and "accident-prone" room of the home where seniors live. You must install grab bars in the shower or near the toilet.

Other ways you can make your home safe for aging parents
Okay, so we're nearing the end of this article. It's time we show you additional ways you can ensure your and your parents' home is safe:
Spread out the furniture, so there's plenty of walking space (and remember to do some downsizing).
Add handrails to both sides of the staircase (for better stability).
Equip your parents with a device that detects falling (they usually have to wear it around their wrists or necks), so that you don't waste time while they're in need of a helping hand.
Don't forget to install bath seats in the shower (including a hand-held showerhead).
That's about it, dear folks. By following the tips we've shown you above, you'll make your home safe for aging parents.


Photos used:
https://unsplash.com/photos/Cc10IJDoj78
https://unsplash.com/photos/zlA7c39DfFk
https://unsplash.com/photos/d9yOg5zP-oQ
https://unsplash.com/photos/dWm94DekLBg